Shopping with a virtual reality headset as if you are physically in a mall… It is no longer a science fiction!
In a special event at this year's Tmall 11/11 global shopping festival, Chinese e-commerce giant Alibaba demonstrated its new Buy+ virtual shopping platform powered with VR-ready HTC's smartphones and HTC's mobile virtual reality store Viveport M.
The Buy+ platform allows customers to search for new products, review them and complete all retail transactions fully in virtual reality.
With Alibaba's new virtual shopping platform, users can simply slip their phone into a VR headset and make their payments by nodding their head, without the need to remove the headset to check out. The Buy+ platform is integrated with Alibaba's online payment system 'Alipay.'
"We are glad to cooperate with Alibaba to enable the first mass-demonstration of a complete VR shopping experience and honored that they have chosen Viveport M as the preferred download partner for the Buy+ mobile application," said Alvin W. Graylin, China Regional President of Vive, HTC.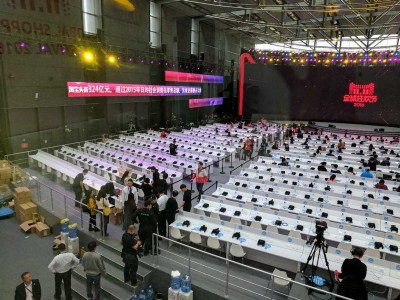 Zhuoran Zhuang, Head of VR programs at Alibaba, said, the company is exploring the next generation shopping experiences continuously, and plans to deliver even more immersive commerce experiences in the near future.
According to Alibaba, 30,000 people tried the VR shopping platform, an hour after the initial launch.
Alibaba has beaten sales records
The e-commerce giant said this year's one-day sales reached 121bn yuan ($18 billion). Last year's sales were worth $14.3 billion. 82% of purchases were made on mobile phones.
Alibaba's Tmall 11/11 global shopping festival is held once in a year on 11 November. The day is celebrated as Singles Day and referred as Double Eleven because of its date.
HTC is upgrading Vive VR headset with a wireless kit
At the Tmall 11/11 global shopping event HTC has also launched its new upgrade kit that enables Vive VR headset to be used wirelessly.
The clip-on peripheral was developed by TPCAST, a startup inside HTC's Vive X accelerator program. The kit is empowered by a rechargeable battery pack and includes a wireless system that transmits the HDMI and USB signal to the headset.
"We are very proud that a Vive X team, has developed such an impactful product in such a short time," said Graylin. "It will allow Vive customers worldwide to gain untethered mobility in VR from their existing devices."
TPCAST says the wireless peripheral has a latency of 15 ms, costs CNY 1,499 ($220) in China and will be out in the market by early 2017. There is no word on the availability of the kit in North America or Europe.